《巢谷传》英文翻译
这次期中考试的复习时间,班头说:"谁要是再吵,罚抄《巢谷传》译文三遍,而且是英文版的!"于是乎,因为我比较闲,也无事可做,就翻译了《巢谷传》。(谁要是不乖,拿了抄去,868个单词^_^)
The Biography of Chao Gu
Su Zhe, Translated by Eric
Chao Gu was named Yuanxiu. His father was Chao Zhongshi, a farmer in Meishan. He was taught by a Shidafu when he was young, and he taught students in a school in his village when he was old. Chao Gu learned with his father when he was young. Although his family was poor, he had lots of knowledge. He saw a man who could fight very well while he was taking an examination in the capital, and he liked fighting at once. Chao Gu was very strong, so he gave up learning. He prepared bows and arrows, and learned riding horses and shooting. Soon, he succeeded in studying it, but he failed the writing test.
It was said that the people in the west was good at fighting, and their skill of fighting was the best in the country, so he went to Qingfeng and Jingyuan. He made friends with heroes there. A man called Han Cunbao was his closest friend. Chao Gu taught him the art of war. They had the friendship like gold. In the years of Xining, Cunbao, leader of soldiers in Hezhou succeeded in fighting the enemies. So he was known as 'the famous leader of Xihe'. The king paid attention to him a bit. Qidi of Luzhouman happened to attack the country. Many provinces couldn't fight against them, so the king ordered Cunbao to lead the soldiers to attack them. Cunbao didn't know about the custom of their country, so he invited Chao Gu to give him advice in the camp. Later, Cunbao broke the law. He was going to be caught. He expected that he would die, so he said to Chao Gu, 'I'm a fighter in Jingyuan. My death won't be a pity. However, my wife and children would have to suffer from hunger and cold, and they'll be poor. There is still some money in my pocket. No one but you can take the money to them for me.' Chao Go agreed. He changed his name, and brought the money to Cunbao's sun on foot. No one knew about this. After Cunbao died, Chao Gu stayed in Jianghuai until the king pardoned.
Chao Gu and I were born in the same village, so we knew each other when I was young. I know he had great idea, and he was a man who can be trusted to do different kinds of things. Then I became a leader of the country, but Chao Gu was in his hometown. We didn't have a chance to meet.
In the first year of Shaoshen, I stayed in Yunzhou because of my fault. Soon I moved to Leizhou, then to Xunzhou. My elder brother Su Shi also moved from Huizhou to Changhua. No leaders dared to communicate with us. We also didn't hear from our relatives and friends. Only Chao Gu said publicly that he would visit us on foot. People who heard what he said all laughed at him and thought he was mad. In the first month of the second year of Yuanfu, he wrote a letter to me from Meishan and said,' I have walked a long way to visit you. I didn't expect I could have been alive until today. I am in Meizhou now, and we will meet soon. I won't have a pity if I die.' I was surprised and said, 'He isn't a man living now, but an ancient man!' After we met, we shook hands with each other and cried. Then we talked about the stories happened in our lives. Although we had talked about this for over a month, we weren't still tired of it. Chao Gu was 73 years old then. He was thin and had many sicknesses. He wasn't that Yuanxiu many years ago. He was going to Hainan to visit Zizhan. I showed sympathy for him because he was old and weak, so I wanted to stop him. I said, 'Although you're kind, it's quite a long way from here to Zizhan's. In addition, you have to take a ship. It isn't what an old man can do.' He said, 'I think I won't die right now. Don't stop me!' I couldn't stop him. I looked at his bag, and found only a little money. I happened to be poor, but I still gave him some money as much as possible. When Chao Gu's ship arrived in Xinhui, a foreign servant stole his bag and ran away. He was caught in Xinzhou. Chao Gu followed him in Xinzhou. Soon he died of disease. When I heard that, I cried out loudly. I complained that he didn't take my advice, but I was surprised that he didn't take my advice to realize his wish.
I live in the south with the native people now. I think I will die here. Although I knew he was kind and helpful, I had no idea about how to spread his stories. I heard that he had a son named Chao Meng who was in the army in Jingyuan, so I could only write a biography for him and give it to his son some day. Chao Gu changed his name into Gu after meeting me in Xunzhou.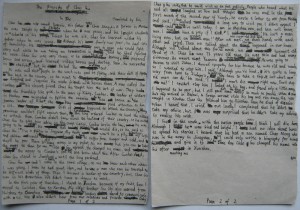 附《巢谷传》原文
巢谷传
苏辙
巢谷,字元修。父中世,眉山农家也,少从士大夫读书,老为里校师。谷幼传父学,虽朴而博。举进士京师,见举武艺者,心好之。谷素多力,遂弃其旧学,畜弓箭,习骑射。久之,业成而不中第。
闻西边多骁勇,骑射击刺,为四方冠,去游秦凤、泾原间,所至友其秀杰。有韩存宝者,尤与之善。谷教之兵书,二人相与为金石交。熙宁中,存宝为河州将,有功,号熙河名将,朝廷稍奇之。会泸州蛮乞弟扰边,诸郡不能制,乃命存宝出兵讨之。存宝不习蛮事,邀谷至军中问焉。及存宝得罪,将就逮,自料必死,谓谷曰:"我泾原武夫,死非所惜,顾妻子不免寒饿,橐中有银数百两,非君莫使遗之者。"谷许诺,即变姓名,怀银步行往授其子,人无知者。存宝死,谷逃避江淮间,会赦乃出。
予以乡闾故,故幼而识之,知其志节,缓急可托者也。予之在朝,谷沉浮里中,未尝一见。
绍圣初,予以罪谪居筠州,自筠徙雷,徙循。予兄子瞻亦自惠再徙昌化,士大夫皆讳与予兄弟游,平生亲友无复相闻者。谷独慨然自眉山诵言,欲徒步访吾兄弟。闻者皆笑其狂。元符二年春正月,自梅州遗予书曰:"我万里步行见公,不自意全,今至梅矣,不旬日必见,死无恨矣。"予惊喜曰:"此非今世人,古之人也。"既见,握手相泣,已而道平生,逾月不厌。时谷年七十有三矣,瘦瘠多病,非复昔日元修也。将复见子瞻于海南,予愍其老且病,止之曰:"君意则善,然自此至儋数千里,复当渡海,非老人事也。"谷曰:"我自视未即死也,公无止我。"留之不可,阅其橐中,无数千钱,予方乏困,亦强资遣之。
船行至新会,有蛮隶窃其橐装以逃,获于新州,谷从之至新,遂病死。予闻,哭之失声,恨其不用吾言,然亦奇其不用吾言而行其志也。
予方杂居南夷,与之起居出入,盖将终焉,虽知其贤,尚何以发之。闻谷有子蒙,在泾原军中,故为作传,异日以授之。谷始名榖,及见之循州,改名谷云。
Google翻译的结果很烂(自己去试),所以那些说只要用自动机器翻译就行了的人就不要再乱说了。
附注
在QQ空间上转载的版本因没有分段,且我不同意QQ空间的服务条款,所以作者不承认这个版本,也不允许继续转载。
转载者违反了《QQ空间服务条款》中的以下条款:
3. 用户在遵守法律及本条款的前提下可依本《条款》使用"QQ空间"服务,用户无权实施包括但不限于下列行为:

……

3.5 利用发表、传送、传播、储存侵害他人知识产权、商业机密权等合法权利的内容。